The 2021 Subaru Love Promise Community Commitment Award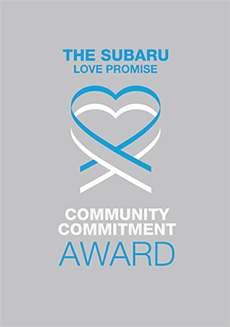 We've been nationally recognized for our dedication to our community and the Subaru Love Promise.
We're honored to receive the 2021 Subaru Love Promise Community Commitment Award. This award nationally recognizes Subaru retailers who are making the world a better place while demonstrating an outstanding commitment to supporting passions and causes in local communities. These efforts are focused in important areas such as the environment, community, health, education, and pets.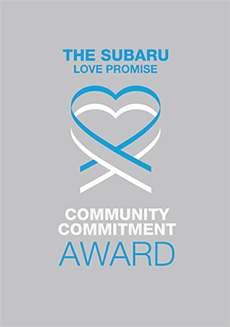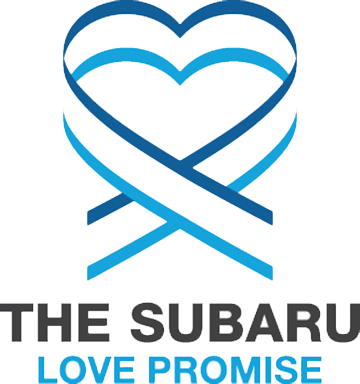 What is the Subaru Love Promise?
Subaru and our retailers believe in making the world a better place and the Subaru Love Promise is our vision of respecting all people. This is our commitment to show love and respect to our customers and to work to make a positive impact in the world.
How is Don Miller Subaru West dedicated locally to the Love Promise?
Our Love Promise can be seen in various partnerships with local charities and non-profits. We're grateful for the opportunity, not only to be a part of our community, but to serve it as well.
Fete de Marquette, Paddle and Portage, Winterfest
American Diabetes Association
Love Promise Stories from Don Miller Subaru West
Subaru and Don Miller Subaru West believe in making a positive impact on the communities in which we live and work. We uphold that belief through our Love Promise Community Commitment. Every month, we select inspiring stories from customers and partners from around our area who strive to support our collective commitment and feature them here
The Foundation for Madison's Public Schools - Laurie S
The Foundation for Madison's Public Schools is deeply grateful to Don Miller Subaru for selecting us to be the Subaru Share the Love Hometown Charity recipient in 2020. Subaru and the Foundation are natural partners considering our shared focus on community, quality education, and service to educators. This generous program will help the Foundation bring vital supplies to students and teachers throughout the Madison Metropolitan School District. The Foundation for Madison's Public Schools is a true hometown charity. For nearly 20 years we have supported the education of every child by raising private funds, awarding grants, developing community partnerships, and advocating for Madison's public schools. We believe that every child deserves a high quality and equitable education. In early 2020, the Foundation launched the Teachers P.E.T.S. (Progress Equity Tools and Supplies) program to create an equitable classroom experience for all students and to relieve teachers from spending their own money on supplies. Then, with the COVID-19 pandemic, school supplies quickly became an urgent need, as thousands of students did not have the supplies required for at-home learning. Since August, thanks to funding from generous community donors, we have raised $220,000 to help deliver over 3,723 school supply kits to students in need of resources. Students across every one of our 50 Madison public schools have benefited. However, we are far from finished; the Madison school district estimates an additional 2,000-4,000 students will need supplies and other supports to ensure their wellbeing this school year. The support of Don Miller Subaru's Share the Love program will help to meet these ongoing needs. To learn more or to donate to the Teachers P.E.T.S. school supply program, visit the Foundation for Madison's Public Schools' website: www.fmps.org. We can't thank our community—and especially Don Miller Subaru—enough for what has already been accomplished; a heartening example of how even in the toughest of times, we can rally behind one of our community's greatest assets: our public schools!
---
Don Miller Subaru Cares About Animals In Need - Ash C
During the last week of October, Dane County Humane Society (DCHS) and Don Miller Subaru West partnered together to help animals find homes through a virtual pet adoption week! From October 24-October 31, DCHS adopters received $25 worth of pet supplies and Lonely Hearts Club animals had their adoption fees reduced. This event was made possible through the ASPCA & Subaru Loves Pets Grant Program. Community interest kept DCHS Adoption Counselors busy, with almost every available adoption appointment booked through the entire week. DCHS is happy to announce that 48 animals found loving homes during the event, including 24 cats, 22 dogs, 1 duck and 1 chicken! "We were so excited to partner with Don Miller Subaru West, ASPCA and Subaru to help animals find homes during this virtual adoption event," says Amy Good, Director of Development and Marketing for DCHS. "Partnerships like this make it possible for us to continue our mission of helping people and animals in our community." "We wanted to partner with Dane County Humane Society because Don Miller Subaru West and its employees wish to Share the Love that pets bring us every day," says Steve Roberts, Service Adviser at Don Miller Subaru West. Thank you so much to the ASPCA, Subaru Loves Pets, Don Miller West Subaru and Subaru for their continued efforts to help homeless pets find loving homes!
---
Subaru Shares the Love with JDRF - Lottie B
On behalf of JDRF, I want to thank Don Miller Subaru for giving us the opportunity to be the Hometown Charity for the 2019 - 2020 Subaru Share the Love Event. Through this generous charitable gift, JDRF will provide local and national funding for diabetes research, as well as support for children and families challenged by Type One diabetes.Type One Diabetes, formerly known as Juvenile Diabetes, is an autoimmune disease that affects children, teens, and adults. The pancreas of someone with T1D produces little or no insulin. Insulin is a hormone needed to allow sugar, (glucose) to enter cells to produce energy and maintain health. T1D patients are dependent on artificially injected insulin and must constantly manage the disease to prevent life threatening complications. The money raised during the Share the Love event supports important research throughout the world and locally at the University of Wisconsin Medical Center, in Madison, WI. In the last 50 years, research dollars have brought many life saving advances, including artificial insulin and many improvements to the management of the disease. Dollars raised are also used to provide education materials, outreach, and support to families in the Dane County area and surrounding communities. Recently, more online information and access to JDRF Toolkits and other resources have been vital to help type one patients and their families, especially, during COVID-19. Thank you again Don Miller Subaru for all of your support! For more information, please visit, www.jdrf.org
---
Funds Fosters Healthy Children and Environments - Kelley V
Thanks to Don Miller Subaru West's generous year-end donation, the Aldo Leopold Nature Center (ALNC) will continue to provide children with year-round programs in a safe, nurturing, and convenient location that challenge their bodies and minds. ALNC's long-term goal is to address two of the greatest challenges of today: the health of our children and the health of the planet, as the two are inextricably connected. To re-establish a healthy balance for children, their families, and the environment, we must teach children how to maintain a healthy lifestyle and a sustainable environment. Exposure to nature is a critical part of the development of every child. Scientific studies report that children who spend time learning in nature experience improved creativity, confidence, problem-solving, critical thinking, self-awareness, academic achievement, and self-discipline. In addition, they exhibit reductions in stress, fewer behavioral problems, and less instances of mental illness, and are more likely to develop a lifelong admiration and respect for nature. Specifically, funding from Don Miller Subaru West will support our ACCESS for ALL initiative including: Subsidized school field trips with access to mobility-challenged trails, a sit-ski, and dual-language programming, Bus transportation subsidies to qualifying schools, Nature Nuts after school programs for elementary school-age children from economically-challenged households, Summer camp and vacation day scholarships to ensure educational equality, Wonder Bugs On the Road preschool program to foster multi-generational learning experiences in the natural world Junior Naturalists mentoring program to help adolescents develop career-related skills, Free Seasonal family events—Fall Fest, Candlelit Snowshoe Hike, and Maple Syrup Fest, Nature Preschool with sliding scale tuition and scholarship options, Community Access Memberships to ensure everyone can become an ALNC member. The impact of these programs is significant. One camper this past summer told us how important is was for him to receive a scholarship, he said: "The canoeing and camping trip was great, and I was away from my family for the whole week. I think the physical activity helped me gain endurance, and I learned how to survive in the wilderness. Also, I liked meeting new friends who are also into the outdoors. It was a trip I will never forget." Thank you, Don Miller Subaru West, for your generous support of Access for All programs at the Aldo Leopold Nature Center so underserved children can reap the many benefits that connecting with nature provides!
---
Meals Manager Delivers with a Passion - Sue B
Colorado native Addie Endreson is used to the snow and cold that can be challenging in Wisconsin. She's up to the challenge of ensuring 32,000 meals a year are packaged and delivered to seniors, adults with disabilities, and homebound individuals. Thanks to a fleet of three vehicles--including two Subarus--Addie knows she has reliable transportation to ensure meal delivery. Addie's story: "My role as Evening Meals on Wheels Manager officially began in May 2019. Though I am new to my role, I have been involved with EMOW since 2017 when I coordinated volunteers for the program and served as the backup to the manager. My passion has always been healthy food access. Throughout my career, I have been involved with various food programs including one in Colorado where I connected low-income families to healthy, local food sources. I am very excited to continue my passion in bringing food security to seniors throughout the Greater Madison Area." In her role as manager, Addie counsels clients, manages orders and cancellations with the chef, and coordinates more than 150 volunteers. The Evening Meals on Wheels program complements noon programs and fills a gap in services. It plays an important role, Addie, says. The program • Allows clients to stay in their homes longer • Impacts overall health. Some clients have gained weight when they needed to, meals have helped stabilize insulin levels, people are receiving more balanced meals. • Provides good nutrition which helps to prevent falls. • Provides social contact. • Gives family members and caregivers peace of mind that their loved ones are eating a balanced meal. Meal preparation is one less thing caregivers have to worry about. Addie also oversees a small paid staff who ensure meals are delivered to pick up points for the volunteer drivers. Food even follows Addie home. "Fun fact," she says, "is this: My husband and I started a compost pile for the first time. Maintaining it has been one of our favorite hobbies this summer." While Addie may be new as the manager, Subaru (with vehicles from Don Miller Subaru in Madison) has been bringing reliability to the meals on wheels program for many years. We're glad to have Addie and our Subarus!
---
Don Miller Subaru West Delivers Hope to Patients! - Karen R
On Thursday, July 11 the Don Miller Subaru West and the Leukemia & Lymphoma Society delivered 80 blankets to UW – Madison American Family Children's Hospital. This was the fourth year that Don Miller West has made this generous gift through the Subaru Loves to Care program, but the first year that we were able to deliver gifts to American Family Children's Hospital! Kim S, LLS Trustee and mother of a pediatric ALL survivor treated at American Family Children's hospital, was able to attend the event and thank the hospital staff and the Subaru employees. Blankets will be delivered to patients and families being treated for cancer at the hospital. Don Miller Subaru West also celebrated making a transformational gift to The Leukemia & Lymphoma Society by selected The 2018 Light the Night Walk as a Subaru Hometown charity. LLS is truly grateful for their partnership.
---
Don Miller Subaru West Loves to Care! - Katie K
The Leukemia & Lymphoma Society was fortunate enough to partner up with Don Miller Subaru West during the month of June for the Subaru Loves to Care program. During the month of June, Subaru customers filled out messages of hope that were delivered to cancer patients in the community. Along with the messages of hope, Subaru created co-branded blankets with LLS that were also delivered to patients. Our delivery was held at the UW Health Carbone Cancer Center. The nurses and admin were so appreciative of the blankets and mentioned how great of a need they are as patients still get cold while going through treatment in the summer. This is the first year LLS had the opportunity to partner with John Duell's team and we are so grateful to be working with a team that spreads love and warmth all while making an impact in the community. Thank you for your time and efforts, Subaru West! You are truly making a difference locally and globally!
---
Local TV shares how Subaru makes meals possible - Sue B
Our Evening Meals on Wheels program depends on the 2018 Subaru Outback to help deliver meals to frail elders. The importance of this program can't be underestimated, and a local television talk show interviewed the manager of the program to share information. It was a perfect opportunity to show the collaboration that makes the meal program possible; the TV crew *followed* the Subaru on a delivery! It was such fun! Here's the link: https://www.facebook.com/FACTvFitchburg/videos/2041705266098331/UzpfSTEwOTYzMDY3NTc1NDMxNToxODA5MjYzNzMyNDU3NjU5/
---
Aldo Leopold Nature Center Partners with Subaru - Kelley V
It is thanks to Subaru of America and Don Miller Subaru of Madison, Wisconsin (both East and West dealerships) that we can address what we believe are the two greatest challenges in today's world: the health of our children and the health of the planet, as the two are inextricably connected. This has been a particularly exciting year for ALNC as we have been steadily working to fulfil our strategic planning initiative: Create Equitable Access for ALL Children Ages 2 through 14. Here are a few ways the Subaru Share the Love Event, through both Don Miller Subaru West and East dealerships, are fulfilling our goals to combat inequality and preserve and protect the environment: -Grew the Wonder Bugs on the Road preschool program from four to 11 off-site locations—community centers where very young children and their parents/caregiver can benefit from multigenerational learning experiences in the natural world -Increased the number of Summer Camp scholarships awarded-Launched Family Access Membership -Continued to grow the free bus transportation subsidies program for qualifying schools -Launched the free monthly Bird & Hiking programs -Offered free Family Events—Fall Fest, Candlelit Snowshoe Hike and Maple Syrup Fest -Continued to offer our popular school Field Trips at a nominal rate -Expanded our partnership with Badger Rock Middle School to better serve this Charter school's 78% economically-challenged population The results we expect to achieve are to foster a lifelong commitment to being innovative, involved and responsible stewards of the land, well equipped with creative problem-solving skills, scientific and social literacy, ethical awareness and an understanding of the symbiotic relationship between humans and the environment. As a result, environmentally literate citizens will address the needs of our changing and challenging world. Established in 1994, the Aldo Leopold Nature Center (ALNC) is a non-profit organization providing year-round environmental educational programming. Our mission is to engage and educate current and future generations, empowering them to respect, protect, and enjoy the natural world. Guided by Aldo Leopold's land ethic, our vision is that: Engaged, educated, and empowered people take action to protect the natural world and create healthy and sustainable communities. ALNC offers interactive and innovative school field trips, after school programs, summer camps, seasonal family programs, scout, home and pre-school programs (both on and off-site), special events, teacher workshops, and interactive science-based exhibits. In 2017, children and their families visited ALNC a total of 63,720 times.
---
Subaru Delivers Meals to Appreciative Senior - Sue B
Sometimes, you just want a choice. That's what Betty wanted. Mostly homebound, this petite senior cooks for herself, occasionally joins neighbors for dinner, and receives meals from the Evening Meals on Wheels program offered by Independent Living, Inc. She knows a thing or two about food. Betty has a home economics education degree from the University of Minnesota. She worked for several years for International Harvester, an ag industry pioneer not only in tractors but also in the frozen food business with their freezers. Betty worked with IH dealers who sold freezers in the 1940s and 1950s. "You had to know how to use it if you were going to buy it," she says. "Canning was the thing then, you know." Betty showed dealers and patrons how to work with food and freezers through product demonstrations and education. She met her husband through IH, and after they married, she retired to raise their son and daughter. Never idle, she used her home ec skills through the county extension office, working with 4H. She has a critical palate, and enjoys the fresh, hot meals from the Evening Meals on Wheels program. "The food is excellent. I appreciate healthy meals, not just fast food junk," she says. The volunteers add to the pleasure. "They're always polite, and efficient. When you're delivering food, you need to keep moving!" she says, chuckling. Thanks to Subaru, the 2018 Outback donated to the Evening Meals on Wheels program in Madison helps drivers keep the meals moving while they're hot . . . even in February, when sun, snow, rain, sleet and wind can come in abundance in Wisconsin. (Pictured is one of the regular drivers, Tim!)
---
Senior Meals Program Grateful for New Subaru - Sue B
A 2018 Subaru Outback is making a difference for seniors in the greater Madison, Wisconsin, area. The brand-new vehicle was donated to the Evening Meals on Wheels program at Independent Living, Inc., a local nonprofit organization. Local television stations were on hand November 28--Giving Tuesday--to catch the excitement from recipients and Subaru representatives. In celebration of its 50th anniversary, and in keeping with its commitment to support local communities nationwide, Subaru of America, Inc. donated 50 new Subaru Outback vehicles to select Meals on Wheels programs throughout the country in partnership with Meals on Wheels America. The 50 vehicles will be used to deliver an estimated 53,000 meals to an additional 3,700 seniors across 39 states. Meals on Wheels America received more than 200 applications from member organizations for the new vehicles. Independent Living's Evening Meals on Wheels program was the only program in Wisconsin that was selected. On average, Madison's Evening Meals on Wheels program produces 34,800 meals annually, delivered by approximately 180 volunteers and organizations, traveling 26,400 miles. It is the only evening program of its kind in Dane County. Independent Living CEO Joyce Behrend says, "Our dedicated volunteers and staff have a 90-minute window to make evening deliveries. The Subaru Outback will be invaluable helping us meet those commitments to the seniors we serve. This is especially true during the winter season when driving conditions can be challenging and sometimes a deterrent for our volunteers." To prep the Evening Meals on Wheels vehicle for delivery, the national Subaru organization worked with local Subaru retailer Don Miller Subaru West. Craig Halliday, retailer marketing manager for Subaru Minneapolis region, says, "We were excited that six Meals on Wheels programs in our region were selected. It's even better that the recipient in Madison is already familiar with Subaru. The Evening Meals on Wheels program worked with John Duell, the general manager, back in 2011 when they acquired a new Subaru at that time!" For the last nine years, Subaru of America has supported the national Meals on Wheels network through "Share the Love," its annual philanthropic event. In total, the holiday program has contributed more than $12 million to Meals on Wheels America and provided more than 1.7 million nutritious meals, friendly visits and safety checks for seniors. Ellie Hollander, president and CEO, Meals on Wheels America, says, "Subaru's '50 Cars for 50 Years' vehicle donation will enable Meals on Wheels programs, like the program offered through Independent Living, to expand its reach to many Madison area seniors in need. This latest act of care and kindness further underscores Subaru of America's longstanding commitment to giving back to communities large and small." The Subaru and Meals on Wheels partnership is part of Subaru Loves to Help, a pillar of the automaker's larger Subaru Love Promise Community Commitment effort dedicated to making a positive impact on local communities across the country. Each 2018 Subaru Outback donated will be delivered to local retailers and wrapped with Meals on Wheels America and 'Subaru Loves to Help' co-branding. "We wanted to celebrate our 50th anniversary in America in a way that is appropriate for our brand and are delighted to donate vehicles that will support local communities by combating threats of isolation and hunger affecting seniors across the country," said Thomas J. Doll, president and chief operating officer, Subaru of America, Inc. "At Subaru, we believe in providing safe and reliable vehicles for all of life's journeys and are honored to partner with Meals on Wheels to help people live more nourished lives."
---
Making good on a Love Promise. - Don Miller Subaru W
On a cold day in March, Nuestro Mundo Community School (NMCS) entered their name into the National Wildlife Federation (NWF) & Subaru's 'Subaru Loves the Earth' initiative with the hope that their school may be selected to receive the award. In April, NMCS was thrilled to find out they were selected as a recipient for what quickly became known as the 'Gift That Keeps on Giving!' First came the letter from NWF & Subaru announcing the award & $100 gift card to be spent on our garden. This was quickly followed by an email from John Duell, General Manager of Don Miller Subaru West, announcing he would be delivering garden tools & garden elements to NMCS. John was incredibly kind & patient delivering the tools at a time convenient for NMCS. It was exciting to discover all the wonderful gifts.....bird houses, bird feeders, bird bath, garden tools, etc. One of the 'biggest' hits was the smallest item- an adorable toad abode! But of course the gift kept on giving when we then received our eighteen native plants for the school garden. John again was kind & helpful in reaching out to NWF and Subaru to clarify when & how these plants would be received. Students were excited to use their new garden tools to get these beautiful plants in the ground. And of course the gift keeps on giving as the plants will continue to grow and add beauty to the school and there are already birds enjoying the bird houses, feeder, and bath! Thank you John and Don Miller Subaru-we appreciate you!
---
2016 Share The Love Donation - Paulette G
Words cannot express our sincere appreciation to all of you at Subaru and Don Miller. This was an amazing surprise and our tears of joy showed the team's passion for what NWDSS does on a daily basis. I think we are all still in shock! I will keep you posted on our projects and how this fabulous donation helps us continue our mission of helping older adults age successfully! We are so grateful for this partnership. This donation, presented on April 4, 2017 WILL have a tremendous impact on the services we provide. One area we know some funds will be utilized is to improve our kitchen area to accommodate the increasing needs for our nutrition program which includes mobile and congregate meals as well as those who are part of the adult day program (over 10,000 meals annually). One quote I heard more than once within our community was, "my next car will be a Subaru!" We thank you for this wonderful opportunity and having us participate in the 2016 Share the Love event. Please know, anyone can use us as a resource. With Sincere Appreciation, Your Friends at Northwest Dane Senior Services, Inc. Paulette Glunn, Executive Director
---
Bringing The Joy of Winter to Everyone - Yuriy G
Don Miller Subaru has sponsored Madison Winter Festival for the past five years. Madison Winter Festival is a weekend long celebration in February, that promotes outdoor sports, recreation, art and healthy lifestyles in winter. Over ninety truckloads of snow transforms the Capitol Square in Madison, WI, into a race and recreational venue for spectators, winter enthusiasts and athletes to enjoy. With the generous support from Don Miller Subaru, Madison Winter Festival has been able to host the Wisconsin State High School Nordic Ski Sprint Championships as well as introduce over one hundred individuals with physical disabilities and visual impairments to the joy of cross country skiing year after year. The Festival has become a cherished community tradition, that would not be possible without the help of Don Miller Subaru.
---
Don Miller Subaru West Helps Feed The Needy - John D
Last year, Madison's most anticipated and successful place making event, La Fete de Marquette, celebrated its 10th anniversary. As producer and benefactor of the event, the Wil-Mar Neighborhood Center looked to our sponsors like Don Miller Subaru and Subaru of America and found it exceedingly easy to share our heartfelt appreciation for making it possible. Why? Here are just two reasons why: Funds raised from Fete have helped provide over 100,000 meals to some of our neediest and vulnerable neighbors; and In just 10 short years, Fete de Marquette has grown to being considered one of the top three anticipated and iconic events in all of Madison. This, in turn, has helped positively develop a once declining urban center into a more vital and more vibrant community. We work hard to produce events like Fete, and in turn, invest proceeds back into the lives of people needing help. A point of gratitude often missed is our sponsors like Don Miller Subaru and Subaru of America also work tirelessly to build a successful business which allows them to give back to organizations like the Wil-Mar Neighborhood Center. We thank you for your hard work! We thank you for your continuing support.
---
Isthmus Paddle and Portage - Chad H
Don Miller Subaru has become an integral part of the annual Madison institution that is the Isthmus Paddle and Portage. Sponsors like Don Miller Subaru are who enable us to put this race on each year. And with the added partnership we have created with the Clean Lakes Alliance, our sponsors also help us bring awareness to the improvement and protection of the Madison area lakes, rivers and wetlands. We're proud to have Don Miller Subaru on board each year!
---